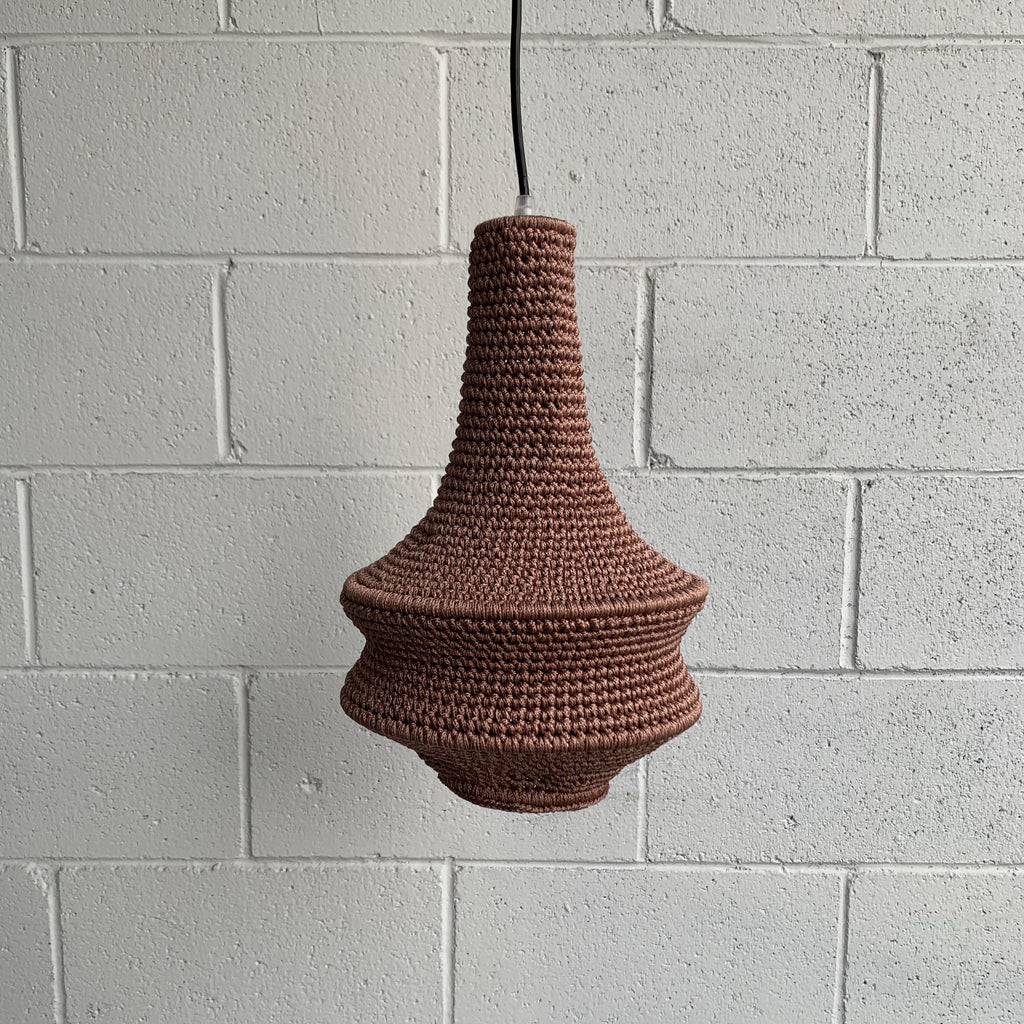 Joosh Pendant Mini
$57.00
Made by Hamimi Designs

DESCRIPTION
A large handcrafted statement pendant with an original personality.  Ideal in bedrooms, social spaces or hung a little low over a dining table.  Works well as a single feature or in a cluster of like or different sized Malika crochet pendants.
Each pendant is hand crocheted to order by women artisans in a small village on the outskirts of Marrakech.  By partnering with these women Hamimi aims to help keep their traditional skills alive and create a brighter future for them and their families. 
To reflect their origin, the sculptural shapes of the Malika pendants are inspired by objects used in daily Moroccan life, like tagines, baskets and pots.  
Each Malika Crochet Pendant is beautiful on its own as a unique single feature in any room or over a table, but by mixing similar or different models, sizes and colours in a group or cluster offer possibilities for dramatic one-of-a-kind interior installations.
DETAILS
Size:
Mini: 30cm High x 22cm Diameter
Please note that the actual heights may vary slightly as each pendant is individually handmade. Custom sizes may be available upon request.
Colours:  With 16 standard colours from which to choose, there is a colour or combination of colours, to suit almost any interior setting or style. 

Materials:  Handmade using silky viscose 'kitan' thread, a textile traditionally used to embellish Moroccan Kaftans, on handmade brass rings.
Made to Order: Each pendant is handmade to order in Marrakech. Please allow 1-4 weeks plus delivery time.  We carry a small amount of inventory in Canada. If we are out of stock we will advise the current expected lead time upon receiving your order. 
Electrical Light Fittings: The Malika Crochet Lights are lampshade only. The electrical light fittings and cable will need to be purchased separately.  
Light Bulb:  Max 11W  Warm White LED (Clear or Pearl). Light bulbs are not included. You may wish to experiment with the strength of the bulb to achieve your desired brightness and ambience in the space.  
You can also use pearl or clear bulbs to create different lighting effects - a pearl bulb will contain the light within the pendant to create a warm glow whereas a clear bulb cast light out through the crochet weave to create patterned shadows on the surrounding ceiling and close walls.
Choosing between a warm or cool white bulb will also affect the ambience you create - we typically use a warm white bulb. 
Installation: To be installed by a qualified electrician.  Simple installation instructions are included.  
Packaging: Each pendant is flat-packed for safe and economical shipping.
Cleaning & Care: Clean regularly with a feather duster, lint roller and/or vacuum with a furniture nozzle attachment. Can be wiped clean with a lightly dampened cloth.